Nothing beats fresh herbs...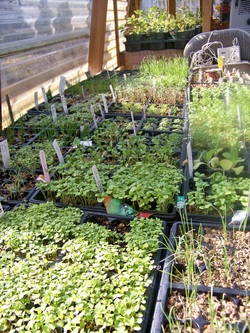 Get ready for the surprising taste difference when you use our flavorful, fresh herbs from your home garden. Everyday dishes take on richer flavor and aroma. Whether you grow herbs for cooking, healing, fragrance, crafts or garden display, they are one of the easiest plants to grow.
We are proud to have provided our customers with high quality plants, grown in an environmentally friendly manner for nearly 9 years. No GMO's and no synthetic fertilizers or pesticides are used. Just a great selection of healthy plants grown the right way.
Please come on down to meet us and all the other exquisite vendors at the
Virginia Beach Farmers Market
.
---