Herbal Soap Benefits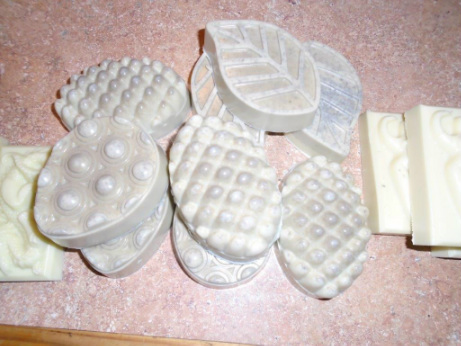 Tea Tree Hempseed Oil and French Green Clay: Antibacterial, antiviral, and antifungal. Use it with acne, oily skin, poison ivy, and psoriasis. This is a gentle soap for troubled and sensitive skin.

Lemongrass Hempseed Oil & Chamomile: Antibacterial, astringent. Recommended for oily or combination skin.

Sweet Orange and Chamomile: Anti depressant, gentle and uplifting, helps treat insomnia. Helps a dull, oily complexion.

Patchouli: An anti depressant, it works to relax tension and ease the muscles. Helps break down cellulite, while stimulating the regeneration of skin cells, speeding up healing and preventing ugly scars forming when wounds heal.

Rosemary: Improves dry or mature skin, eases lines and wrinkles, and heals burns and wounds. Helps clear acne, fight blemishes and dull dry skin by fighting bacteria. Improves circulation and can reduce the appearance of broken blood capillaries and varicose veins. Helps overcome mental fatigue and sluggishness by stimulating and strengthening the entire nervous system. Improves mental clarity while aiding alertness and concentration.

Vanilla and Honey: For a gentle and lasting moisturizing experience, try this delicious and exotic, vanilla scented soap. Filled with skin nourishing ingredients this intricate blend is sure to be a pleasing addition to your health and wellness routine.

VATA (Basil): Purifies the blood and kills bacteria. Anti bacterial and helpful in skin irritations and other skin problems. It also makes your skin smooth and clear.

Lemon and Coconut: effective in preventing skin wrinkles and sagging of skin, eczema, psoriasis, and dermatitis. Helps delay the aging of skin and prevent skin cell damage.

Spa Blend: Rosemary, Lavender and Geranium. Soothing and aromatic, used for rashes, calloused and cracked skin. Has anti-bacterial properties. It is used herbally for tension headaches and migraines. Also used to soothe aching and tired limbs.

Coconut Paradise: With a delicate fragrant blend of real coconut, peaches, and vanilla this refreshing soap will pleasurably ease you into your own imaginary tropical paradise.

Toasted Almond and Coffee Scrubbles: A nutty almond, scented soap. Wonderful and light with aromatherapy benefits. Anchoring, and strengthening.

Lavender: This soap is a luxurious bar that will leave your skin feeling soft, revitalized and smelling fresh. It can be beneficial to use lavender soaps before bedtime to promote a deep sleep. Lavender soap is also an effective calming aid for anxiety or excessive energy in children and toddlers.

Coconut Mango with Poppy Seed Scrubbles: Leaves your hands & body smelling clean and fresh with a stress relieving scent while the poppy seeds act as an exfolliant.

Eucalyptus: Antiseptic and antifungal. Good for itchy skin and acne. Recommended for normal to oily skin.

Sandalwood: The scent of sandalwood has long been appreciated for its effects on the mind, some would even say on the soul. Relieves stress, anxiety, and depression.